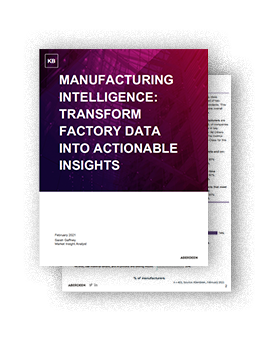 Discover the value of data and analytics on the factory floor
Through digital transformation, manufacturers have more data at their fingertips than ever. But simply collecting data from the factory floor isn't enough—manufacturers must effectively leverage that data to make smarter and more informed decisions.
Best-in-Class companies are realizing the benefits of investing in centralized platforms, real-time data, greater visibility, and rich analytics that enable them to gain control over their manufacturing processes. This Aberdeen whitepaper details the business advantages that Best-in-Class manufacturers experience as a result of key data management and analytics capabilities that provide data-driven insights—and reveals how organizations can become Best-In-Class companies themselves.
Download whitepaper to discover:
Why comprehensive manufacturing intelligence is so important.
How manufacturers can leverage vast amounts of data into actional decision making.
What manufacturing solution capabilities Best-in-Class organizations are looking for today.
How technology enablers like machine learning and predictive analytics empower Best-in-Class performance.
And more.