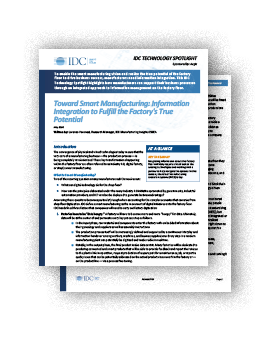 Aegis Software Recognized for Smart Manufacturing
Key to enabling smart manufacturing vision is complete information integration. Today, manufacturing businesses are being revolutionized by the convergence of physical and virtual technologies. Through Industry 4.0 technology and smart manufacturing, manufacturers and executives alike are realizing the true potential of the factory floor and driving greater business success than ever before.
In this whitepaper, IDC Research highlights how manufacturers can support their business processes through an integrated approach to information management on the factory floor.
Download our insightful whitepaper to discover:
The importance of smart manufacturing.
What the convergence of physical and virtual technologies can do for the shop floor.
How the right digital tools can augment your factory workers and free them up for more value-added activities.
The amount of data your plant is truly capable of generating.
What the right technology provider and partner can do for your factory operations.
And more...