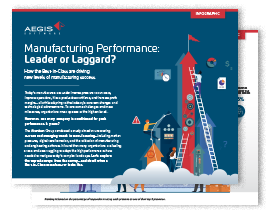 Becoming a Best-in-Class Manufacturer
Today's manufacturers are under pressure to cut costs, improve operations, retain and recruit a productive workforce, and increase profit margins—all while adapting to the industry's constant changes and technology innovations. To overcome today's challenges and meet goals and milestones for the future, organizations must operate at the highest level of performance. But unfortunately, not every company is a high performer. Is yours?
In this infographic storybook, we take a look at today's biggest manufacturing challenges and how "Best-in-Class" organizations turn those challenges into opportunities for growth. Download it to discover:
Today's biggest pressures to improve manufacturing operations.
The top actions respondents are taking to improve their approach to manufacturing operations.
How the Best-in-Class are prioritizing key technology enablers like digital tools, MES, IIoT, augmented reality, and more.
Why average and laggard companies need to transform to survive.
What a Best-in-Class factory looks like.
And more.