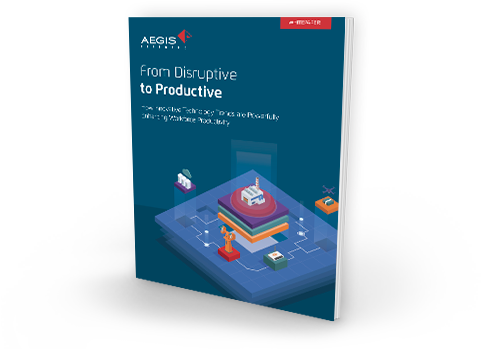 Harness Technology as a Productive Workforce Enabler
As consumer demands increase and evolve, manufacturers must find ways to increase their output accordingly. But how can manufacturers turn today's most disruptive technology trends into productive workforce enablers?
In this whitepaper, packed with insights, we explore top trending technologies and the key manufacturing pain points they can alleviate, then discuss the best digital technology investment manufacturers can make to encourage higher output and a more empowered workforce. Download the whitepaper to learn:
Mega-trends, market shifts, and enablers in today's technology landscape.
The top productivity pain points and disruptive trends heading for your factory floor.
How digital innovations such as the Industrial Internet of Things (IIoT) form a foundation for enhanced productivity, factory-wide.
Why Manufacturing Execution Systems (MES) are built to promote enterprise-wide success.
How Aegis FactoryLogix® MES enables proven productivity improvements with IIoT / Industry 4.0 connectivity.