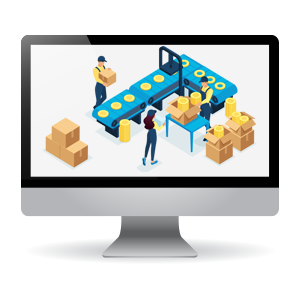 A Perfect 10: Smart Material Management: Internal Logistics For Industry 4.0
Issues related to materials, have always been a major cost for SMT and assembly manufacturing, there are simply too many things that can go wrong. Challenges include, sudden, unexplained internal material shortages, a variety of production quality issues, costs of bloated stock, and now supplier trust issues with counterfeit materials. Any of these can become really serious, really quickly. With today's Industry 4.0-driven need for small lot, high-mix production, the challenges simply escalate, stifling innovation and change.
Factory MES needs to dramatically advance under Industry 4.0, connecting seamlessly to every machine and process in the factory, exchanging data, creating context, and actionable, automated management of material management flows.
The introduction of an IIoT-based modern MES platform addresses the business, technology and physical issues in manufacturing, accounting for and managing every single piece of material precisely, with complete and exact traceability to the level where supplier issues and counterfeit ingress can be eliminated.
In this webinar, we list out the top 10 values and benefits of Lean material management, as part of the latest IIoT-driven MES solution, that eliminates the most significant needless costs of modern manufacturing, establishing the basis for practical and sustainable Industry 4.0.
Anyone experiencing any form of material related challenges, from the C-level to supply-chain, production, quality and engineering management, or anyone tasked with finding the way forward with an Industry 4.0 initiative, should regard this webinar as a "must see".