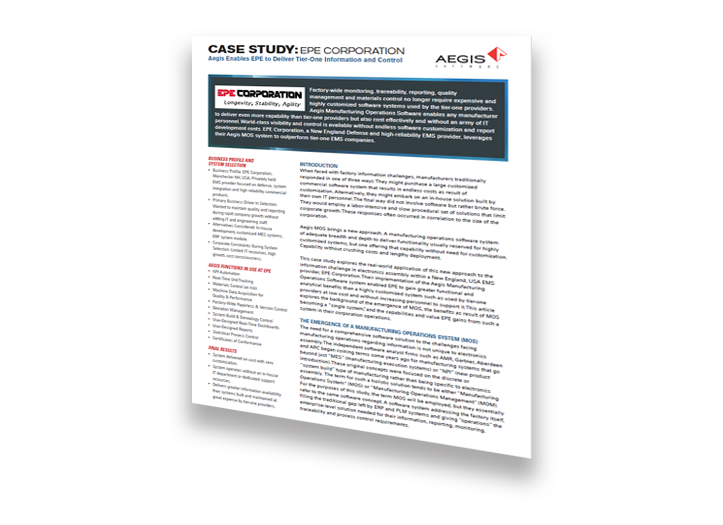 By implementing Aegis' MES, EPE now has world-class visibility and control without having the endless software customization and report development costs typical of other commercial MES systems.
EPE Corporation, Manchester NH, USA. Privately held EMS provider focused on defense, system integration and high reliability commercial products.
Vendor Selection Process & Considerations:
Wanted to maintain quality and reporting during rapid company growth without adding IT and engineering staff.
Alternatives Considered: In-house development, customized MES systems, ERP system module.
Corporate Constraints During System Selection: Limited IT resources, high growth, cost consciousness.
Core Aegis' MES Capabilities Leveraged:
NPI Automation
Real-Time Unit Tracking
Materials Control
Machine Data Acquisition for Quality & Performance
Factory-Wide Paperless & Version Control
Deviation Management
System Build & Genealogy Control
User-Designed Real-Time Dashboards
User-Designed Reports
Statistical Process Control
Certificates of Conformance
Key Benefits:
Aegis' MES System delivered on cost with zero customization.
System operates without an in-house IT department or dedicated support resources.
Comprehensive system with lower total cost of ownership.